Softening Face Oil
Nourishing & repairing face oil with Fazer oat oil
Free delivery on all orders over 50€. Delivery in 2-6 business days.
The right kind of oil is your skin's best friend - it helps lock in moisture by slowing down water loss. And yes, even oily and acne-prone skin needs oils.
Our award-winning Face Oil for sensitive and problem skin is an easily absorbed mixture of just four pure plant oils: repairing argan oil, softening oat oil, soothing raspberry oil and regenerating rosehip oil. Your skin will feel nourished, but with a nearly matte finish. Thanks to its fatty acid composition our Face Oil works on both sensitive dry and oily, acne-prone skin.
Fact, though: an oil does not hydrate your skin, so remember to always use a hydrating product underneath, such as our Balancing Essence, Calming Treatment or Face Cream. 

Formulated for sensitive & problem skin. Can be used around the eyes. Fragrance-free. No added preservatives. Vegan & natural ingredients. Developed in our own Helsinki lab & made in Finland.

Please note, that our Face Oil contains high amounts of argan oil. If you are allergic to nuts, you should always consult your doctor and patch test before using this product.
Ingredients (INCI)

Argania spinosa kernel oil, avena sativa kernel oil, rosa canina fruit oil, rubus idaeus seed oil.

More info
How to use & tips

Pat 1–4 drops onto clean skin, after Essence, serums, Face Cream or Hydrating Face Mask & Cream. while your skin is still slightly moist from these products. Remember to always use a hydrating product under the Oil - oils in themselves cannot hydrate skin. Adjust amount according to needs; if you need to blot after application you are using too much. Works well under makeup. Can be used around the eyes.

Tip 1: Not a fan of creams or dealing with super reactive and sensitised skin? Layer a couple of drops of Face Oil over a few pumps of our Balancing Essence, or mix the two together in the palm of your hand and apply to your face for easy one-step hydration and care.
Tip 2: Skin feeling dry? Mix a couple of drops of Face Oil with our Face Cream for added care or layer over your serum of choice.
Why it works for sensitive & problem skin

We've used a minimum of ingredients - only four go into the Oil.

It's completely fragrance-free, and formulated without any added preservatives (as the product is water-free).

Scared of using oils on clog-prone skin? Don't be. It's all down to the fatty acid profile of each oil and how they combine - those high on linoleic acid are good for acne and oilier type skins, while oleic acid works well for drier types.

In our Face Oil we've mixed both: rosehip and raspberry are high in linoleic acid and balance out argan, which is slightly higher in oleic acid, while oat comes in at a nearly even 50/50 split between oleic and linoleic acid.
Recycle

Bottle made of light protective violet glass, pipette made of glass, PE-HD plastic and nitrile rubber, label made of PE plastic and outerpack made of cardboard.
Awards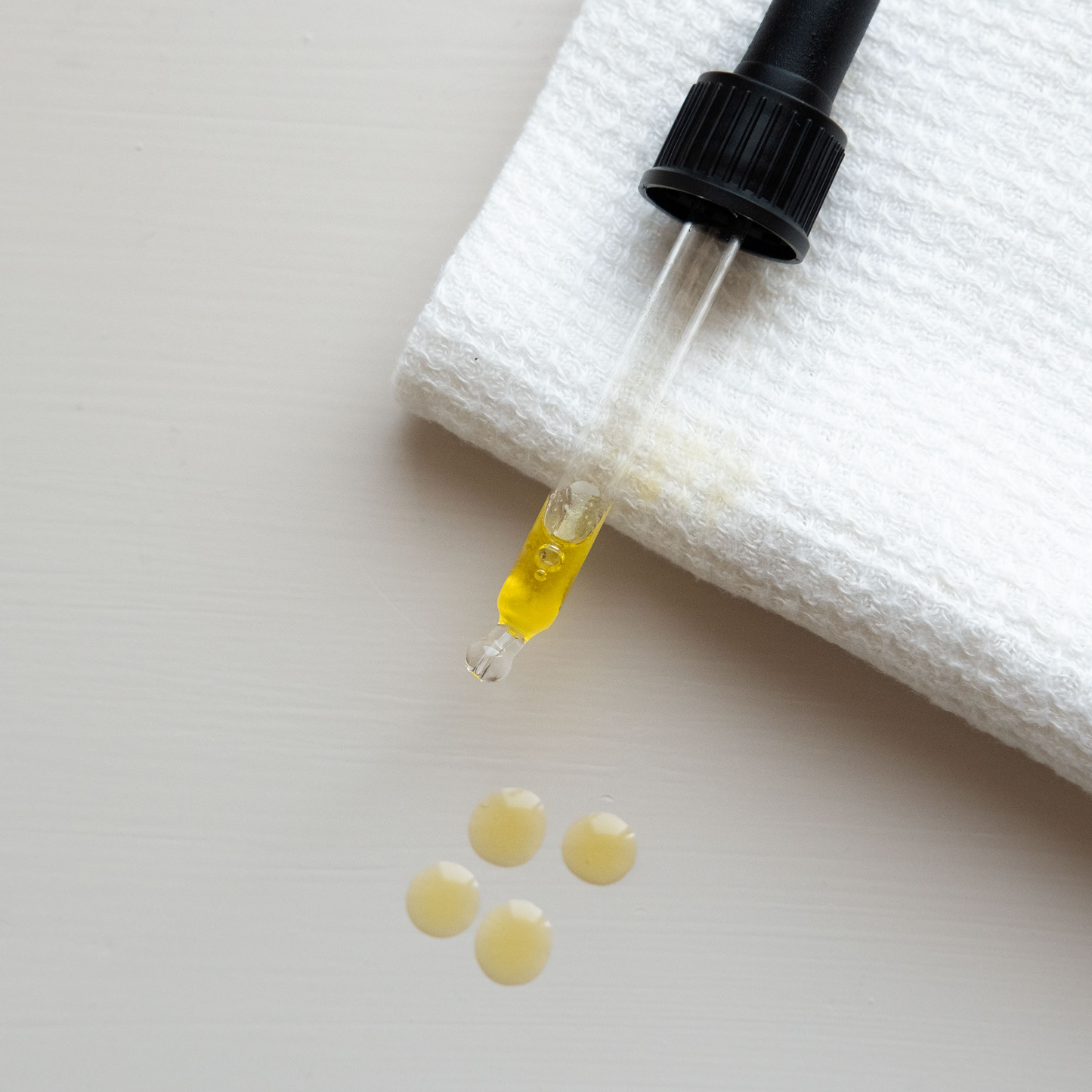 ARGANIA SPINOSA KERNEL OIL
Emollient and skin conditioning. Argan oil. A staple for us. It is obtained from the non-roasted organic kernels of Moroccan Argania Spinosa, i.e. argan nuts. We love it in almost everything, and especially like its repairing qualities. It is slightly higher in oleic acid, but is usually suitable for clog prone skin, as it contains a fair amount of lupeol, a triterpenoid with anti-inflammatory benefits.
AVENA SATIVA KERNEL OIL
Emollient and skin conditioning. Oat kernel oil. This dark golden oil has a nearly 50/50 balance of oleic and linoleic acids. From a skincare point of view, it's an excellent skin softener and has some calming properties too. We source our oat oil from Fazer, a Finnish family-owned, 127-year-old food and food service company, who produce their oil in Finland, using Finnish oats. The Finnish-ness matters because a) the soil in Finland produces outstanding quality oats and b) it is quite rare for an oil producer to have a 100% local supply chain. Markku, who is head of R&D at the oat mill in Lahti, tells us he has personally eaten all oat products that Fazer makes – including the oil.
ROSA CANINA FRUIT OIL
Emollient and skin conditioning. Rosehip oil. It is rich in linoleic acid and provitamin a, which lends it regenerative properties. It can be beneficial in treating acne, rosacea and pigmentation. Coldpressed and organic.
RUBUS IDAEUS SEED OIL
Emollient and skin conditioning. Raspberry oil. It contains a large amount of linoleic and alpha linolenic acids, along with vitamin e. Among its central benefits is its ability to soothe skin. Raspberry seed oil may also be useful for treating eczema. Coldpressed and organic.
What people think
Softening face oil
Ihan loistava tuote! Erityisesti talvella kuivalle atopiaan taipuvaiselle iholle yöksi suoraan ja päivällä kosteusvoiteen lisänä.
Softening Face Oil, this is the best!
Öljyä kasvojen iholle, tämä on paras! Toimii niin kuin luvataan, et pety tähän.
Uusi lemppariöljy
Ihana öljy, levittyy hyvin ja jättää ihon pehmeäksi. Käytän erityisesti illalla yövoiteen kanssa. Entisestä epäpuhtaasta mutta pintakuivasta ihosta on tullut selvästi terveempi, pehmeämpi ja hyvinvoiva. Jää ehdottomasti käyttöön jatkossa! Ihana luonnollinen ja turvallinen öljy. Ainoa miinus siitä että tuoksu ei ole kovin hyvä, mutta ei kyllä kauhean voimakaskaan, joten koska öljy on muuten niin hyvä, niin se ei haittaa. Sopii varmasti myös herkälle iholle, kun ei ole lisätty mitään turhaa ja ylimääräistä.
Something for all of you fellow sensitive and problem skinned friends out there: we've been granted the Finnish Allergy, Skin and Asthma Federation's Allergy Label! Read on for why the Allergy Label matters to us – and to you.

Deciphering ingredient lists on cosmetic products can be like reading a book in a foreign language: impossible to understand the plot, but you may recognise a word or two. Keep reading for our chemist Jaana's tips on how to read ingredient lists, also known as INCIs - or why you maybe shouldn't even bother trying!

We, as sensitive and problem skinned individuals, are rather familiar with the feeling of having an impaired skin barrier. Skin going cray-cray isn't exclusive for us with temperamental skin though, and it can happen to anyone at any given time. How to tell if you're dealing with an out of whack barrier? How to restore it? Keep reading to find out!