Mild Milk Cleanser
Softening & hydrating cleansing milk
Free delivery on all orders over 50€. Delivery in 2-6 business days.
Some of you already noticed - our best-selling and much-loved Milk Cleanser now has 'Mild' attached to its name. Still the same great stuff, just new packaging, and also featuring our new larger cap! Bear with us until we get new pics for the shop. 
In need of a good, but gentle oil-based cleanse for sensitive and problem skin?

Our award-winning Mild Milk Cleanser is made with nourishing canola oil, hydrating plant-based glycerin and conditioning and anti-bacterial xylitol sugar. It gently but effectively removes oil, dirt and makeup, for skin that feels fresh and comfortable.  
And as a gentle reminder, which bears repeating: ALWAYS, and we really mean ALWAYS, apply the Milk directly onto dry skin, without water. That's how it's formulated. Applying to moist skin will dilute the cleansing power of the Milk. Same goes for our Gel Cleanser. Read more in our How to use section below!
Formulated for sensitive & problem skin. No added fragrance. Vegan & natural ingredients. Developed in our own Helsinki lab & made in Finland.

Ingredients (INCI)

Aqua, canola oil, glycerin, polyglyceryl-3 dicitrate/stearate, sodium levulinate, cetyl alcohol, sodium anisate, xylitol, xanthan gum, citric acid.

More info
How to use & tips

Apply generously to a cotton pad and wipe dry face (without using water) with pad, or massage directly onto dry skin with clean fingers.
Rinse face with water. For a deeper cleanse, use a damp washcloth.

Tip 1: Dry, sensitive skin? No water needed - the Milk Cleanser can be wiped off with face tissue. Finish by wiping face with a toner-soaked cotton pad.
Tip 2: Use our re-usable and washable face pads to minimise waste!
Why it works for sensitive & problem skin




We've used a minimum of ingredients - only 10 ingredients go into the Milk Cleanser.

Formulated without added fragrance and without alcohol.

Formulated with a skin-friendly preservative system.

This means gentle stuff - primarily organic acids and their salts - and also that we've created a unique system for the Milk, to minimise the risk of sensitising skin.

Formulated with a gentle, non-ionic emulsifier which also functions as a very mild surfactant (non-ionic surfactants are the gentlest of all surfactants).

The Milk contains

canola oil, which is an excellent all-round oil for most skin types, glycerin, which is a widely used and well tolerated moisturiser which also helps cleanse skin, and xylitol sugar, which gently fights bacterial film on skin.

The Milk's pH is around 5.5 (

healthy skin's own pH is slightly acidic, between 4.8 and 5.5).
Recycle

Tube made of aluminum, cap made of PP plastic and outerpack made of cardboard.
Awards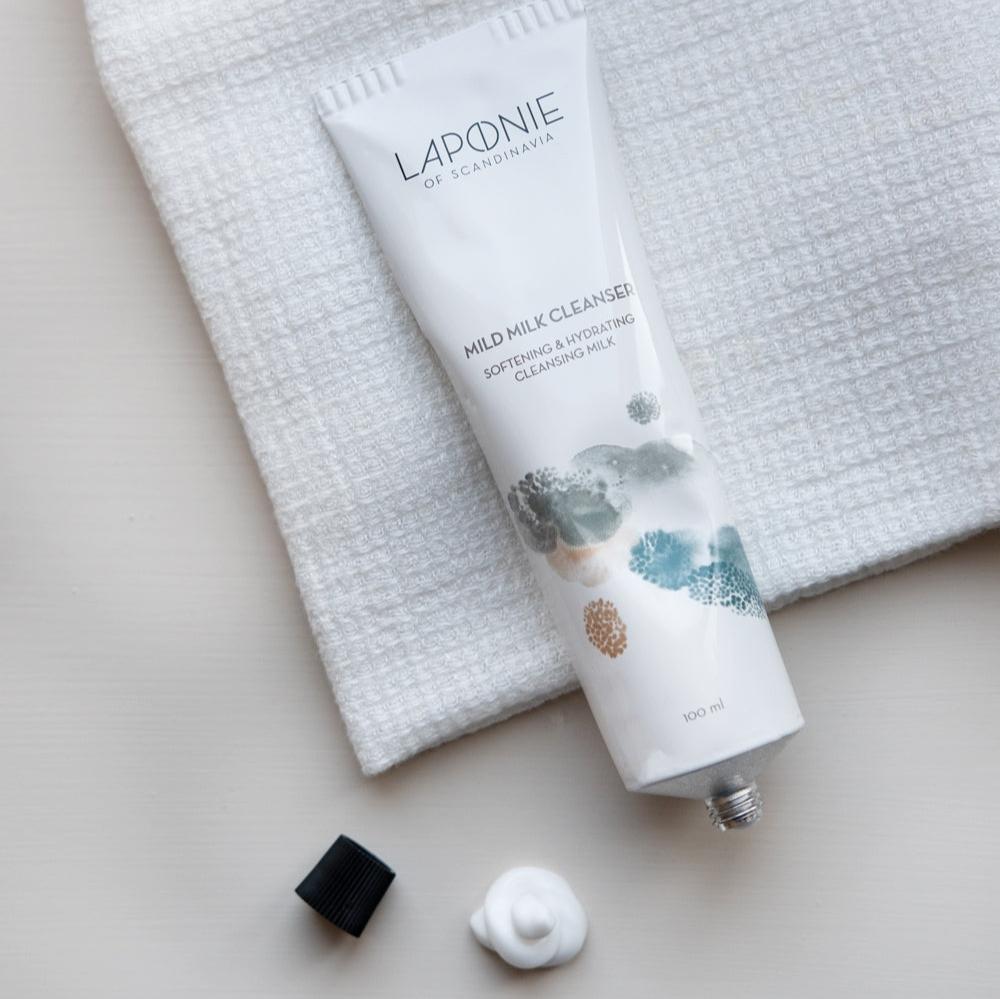 AQUA
Solvent. Water. The main vehicle for our Milk Cleanser.
CANOLA OIL
Emollient and skin conditioning. Sustainably produced, deodorized and purified Swedish canola oil (from rapeseed oil) gently dissolves makeup and dirt. Canola oil is commonly used in cosmetics and is well-tolerated, skin wise. It is slightly higher in oleic acid (at around 60%), with linoleic and alpha-linolenic acids at a total of just over 30%, making it a good all-around oil for most, and especially for drier and eczema prone skins.
GLYCERIN
Humectant and skin protecting. Technically a sugar alcohol, glycerin is one of the oldest, most common and most versatile humectants used in cosmetics. It moisturises and protects the skin, accelerates skin barrier recovery and has antimicrobial properties, among other things. We use the vegetable, organic kind, made from rapeseed, corn and soy.
POLYGLYCERYL-3 DICITRATE/STEARATE
Emulsifying and surfactant. An emulsifier, put simply, enables the mixing of water and oil into an emulsion. This particular one is gentle on the skin, non-ionic, based on glycerin, stearic acid and citric acid, and is made from rapeseed and RSPO certified palm oils.
SODIUM LEVULINATE
Skin conditioning and preservative. Sodium levulinate is the sodium salt of levulinic acid, an organic acid that in this case is derived from sugarcane. Together with sodium anisate and plant derived glycerin, it makes up the preservation system we use for our Milk Cleanser. At the appropriate pH, the salts transform into acid, and voilà – product preserved.
CETYL ALCOHOL
Thickening and emulsion stabilising. A fatty alcohol made from RSPO certified palm oil. Please note that like sugar alcohols, e.g. glycerin or xylitol, fatty alcohols are not the same as denatured alcohol (ethanol); both sugar alcohols and fatty alcohols have moisturising and conditioning properties, whereas denatured alcohol has a completely different function in skincare products (and can be drying on skin).
SODIUM ANISATE
Antimicrobial, flavouring agent and preservative. The salt form of star anis derived organic acid. The other half of our preservation system.
XYLITOL
Humectant and skin conditioning. Xylitol is a sugar alcohol and moisturises and conditions skin, whilst possessing anti-bacterial properties. There is some interesting research that suggests xylitol has the ability to inhibit bacterial biofilm on skin, which in turn may be the cause of many skin issues. The one we use is made in Finland from European hardwood.
XANTHAN GUM
Gel forming, thickening and emulsion stabilising. A natural and commonly used thickener in cosmetics, xanthan gum is a polysaccharide produced from sugars through fermentation. Fun fact: it derives its name from the species of bacteria used in the fermentation process, Xanthomonas campestris.
CITRIC ACID
Buffering agent. Citric acid is a commonly used buffering, i.e. pH adjusting, agent in cosmetics. It is made through bacterial fermentation and shifts the pH of the product into the acidic range. This is closer to the natural pH of the skin, which may range from 4 to 7, but is usually thought to be between 5 and 6, with recent studies, however, indicating it to be below 5.
What people think
Perushyvä
Arvosteluiden perusteella odotin jotain tajunnanräjäyttävää. Tuote on perushyvä, puhdistaa meikit hyvin eikä tunnu ärsyttävän ihoa. Voiteen/öljyn kyllä kaipaa jälkikäteen. Pakkauskoko pieni.
Paras öljyputsari ja puhdistusmaito
Laponie of Scandinavialla on paras öljyputsari( nourishing oil cleanser) sekä puhdistusmaito ( mild milk cleanser). Itsellä sekaiho joka pintakuiva, couperosa ja tietysti herkkä. Nämä kaksi ovat oman ihon pelastajat. Monta öljyputsaria on tullut kokeiltua, mutta tämä on irrottanut meikin tähän mennessä parhaiten. Vedenkestävä ripsiväri ei itsellä tällä lähde mutta ei se ole lähtenyt millään muullakaan öljyputsarilla.
Lisäksi varsinkin öljyputsarin Incl luettelo lämmittää sydäntä; siellä on todella vähän aineita eli vain 2♥️ Ja silti tuote toimii erittäin hyvin.
Puhdistusmaito taas on todella hellävarainen mutta silti tällä lähtee meikkien loppuroippeet täysin pois. Käytän siis ensin öljyputsaria ja viimeistelen puhdistumaidolla ja sitten kosteutus päälle.
Paras putsari herkälle iholle
Ehdottomasti paras putsari herkälle iholle. Ihoa ei kiristele käytön jälkeen, vaan iho tuntuu pehmeältä ja kosteutetulta. Meikkivoide lähtee hyvin pois, kun tuotteen levittää ohjeen mukaisesti kuivalle iholle.
Paras puhdistustuote koskaan
Tuote pesee hyvin meikin pois ja jättää ihon ihanan pehmeäksi. Pesun jälkeen kasvoja ei kiristä yhtään. Auttanut paljon pintakuivuuden hoidossa.
Tehokas, hellävarainen putsari
Vihdoinkin tehokas mutta ei-kuivattava hajusteeton putsari helposti reagoivalle iholle. Rakkautta ensikokeilulla! Käytän tätä kaksoispuhdistuksen ensimmäisessä vaiheessa ja poistaa hyvin ainakin kevyen mineraalimeikin. Niin iloinen, että löysin tämän tuotesarjan!
Something for all of you fellow sensitive and problem skinned friends out there: we've been granted the Finnish Allergy, Skin and Asthma Federation's Allergy Label! Read on for why the Allergy Label matters to us – and to you.

Deciphering ingredient lists on cosmetic products can be like reading a book in a foreign language: impossible to understand the plot, but you may recognise a word or two. Keep reading for our chemist Jaana's tips on how to read ingredient lists, also known as INCIs - or why you maybe shouldn't even bother trying!

We, as sensitive and problem skinned individuals, are rather familiar with the feeling of having an impaired skin barrier. Skin going cray-cray isn't exclusive for us with temperamental skin though, and it can happen to anyone at any given time. How to tell if you're dealing with an out of whack barrier? How to restore it? Keep reading to find out!