Hand Cream Concentrate
Deeply hydrating and nourishing hand cream
Free delivery on all orders over 50€. Delivery in 2-6 business days.
Our simple but concentrated, easily absorbed hand cream is tough on dry and rough sensitive and reactive skin – the gentle way.
Plant-based glycerin and betaine from sugar beets hydrate, canola oil softens and oatmeal locks it all in, leaving your hands with a nourished, non-greasy and non-sticky feel. For those of you who can't handle beeswax, no worries; this baby is totally vegan, like the rest of our stuff.
Wondering about the small-ish size? Well, the Concentrate really is very...concentrated, so a little goes a very long way. Plus we wanted to put the Concentrate in a tube that travels well in your purse. Oh, and get this - we put a bigger cap on the tube, too. Because we heard those of you who told us the current caps are just too small (and decided to change all caps on all tubes, starting with the Concentrate). 
Formulated for sensitive & problem skin. No added fragrance. Vegan & natural ingredients. Developed in our own Helsinki lab & made in Finland.  
Ingredients (INCI)

Aqua, canola oil, glycerin, betaine, cetyl alcohol, glyceryl stearate citrate, avena sativa kernel flour, polyglyceryl-3 stearate, hydrogenated lecithin, sodium dehydroacetate, caprylyl glycol, xanthan gum, citric acid, tocopherol.

More info
How to use & tips

Apply a small amount of the Hand Cream Concentrate to dry, cleansed hands. Adjust amount according to needs. The Concentrate is very rich and...well...concentrated, so little goes a long way.

Tip 1: Give dry and rough elbows or feet a go too!
Why it works for sensitive & problem skin

We've used a minimum of ingredients - only 14 ingredients go into the Concentrate.

Formulated without added fragrance or alcohol, and contains no beeswax.

Formulated with a skin-friendly preservative system. This means gentle stuff and a unique system, primarily organic acids and their salt forms,

to minimise the risk of overlap and sensitising skin.

In the Concentrate we've used sodium dehydroacetate boosted by caprylyl glycol.

Formulated with a gentle, non-ionic emulsifier, based on sunflower phospholipides, which also slows down TEWL (Trans-Epidermal Water-Loss). Fun fact: of all emulsifier classes, non-ionic ones are the gentlest.

Contains canola oil, which is an excellent all-around oil for most skin types, glycerin and betaine from sugarbeets for deep and lasting hydration and colloidal oatmeal, which has been used for ages to treat eczema and rashes and also strengthens the skin barrier by slowing down TEWL (trans-epidermal water-loss).

The Concentrate's pH is around 5.5 (

healthy skin's own pH is slightly acidic, between 4.8 and 5.5).

The Concentrate has been rigorously tested by our founder Kristina and chemist Jaana, both of whom have a long history of sensitive and problem skin.


Recycle

Tube made of aluminium, cap made of plastic and outerpack made of cardboard.
Awards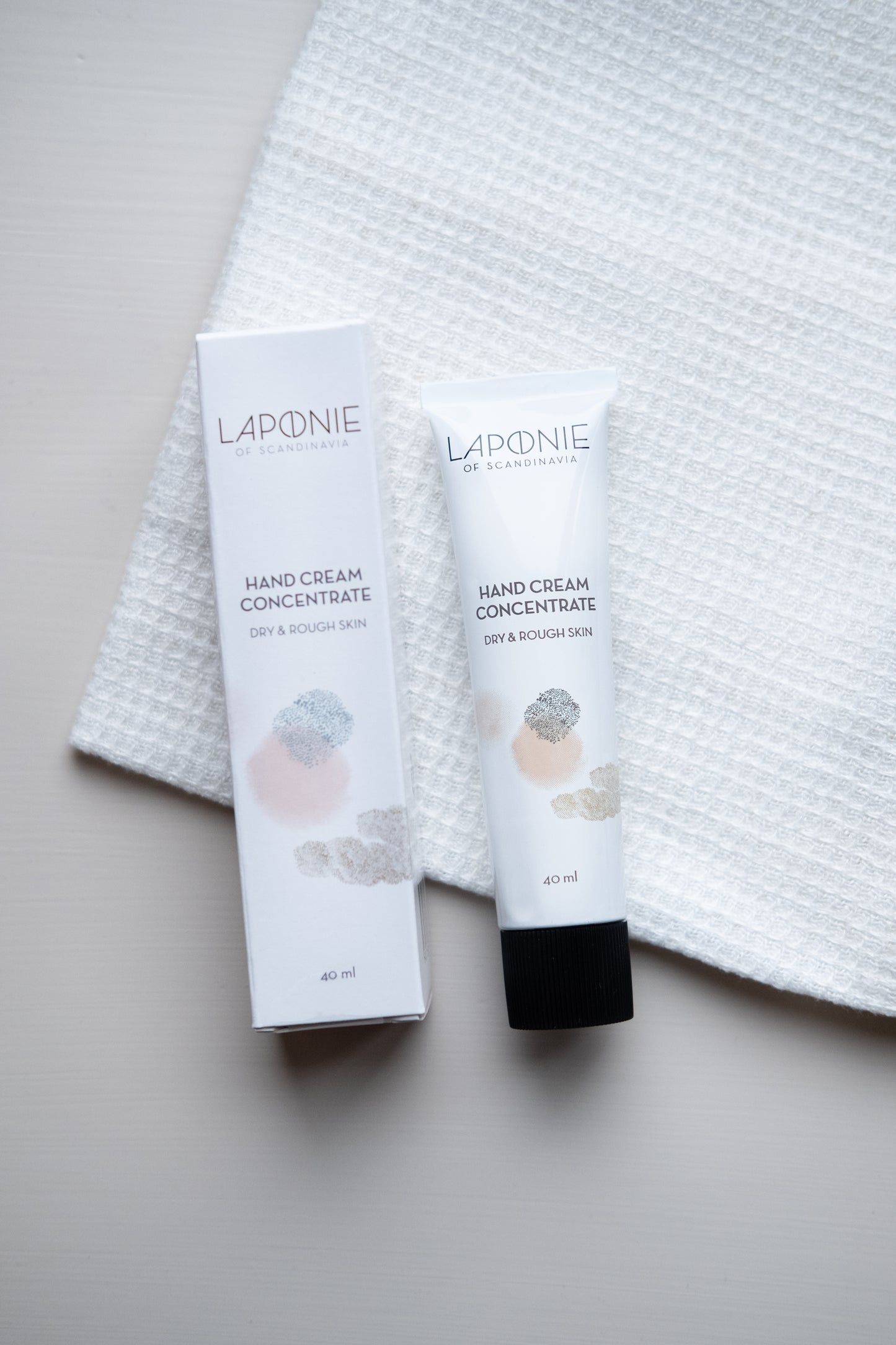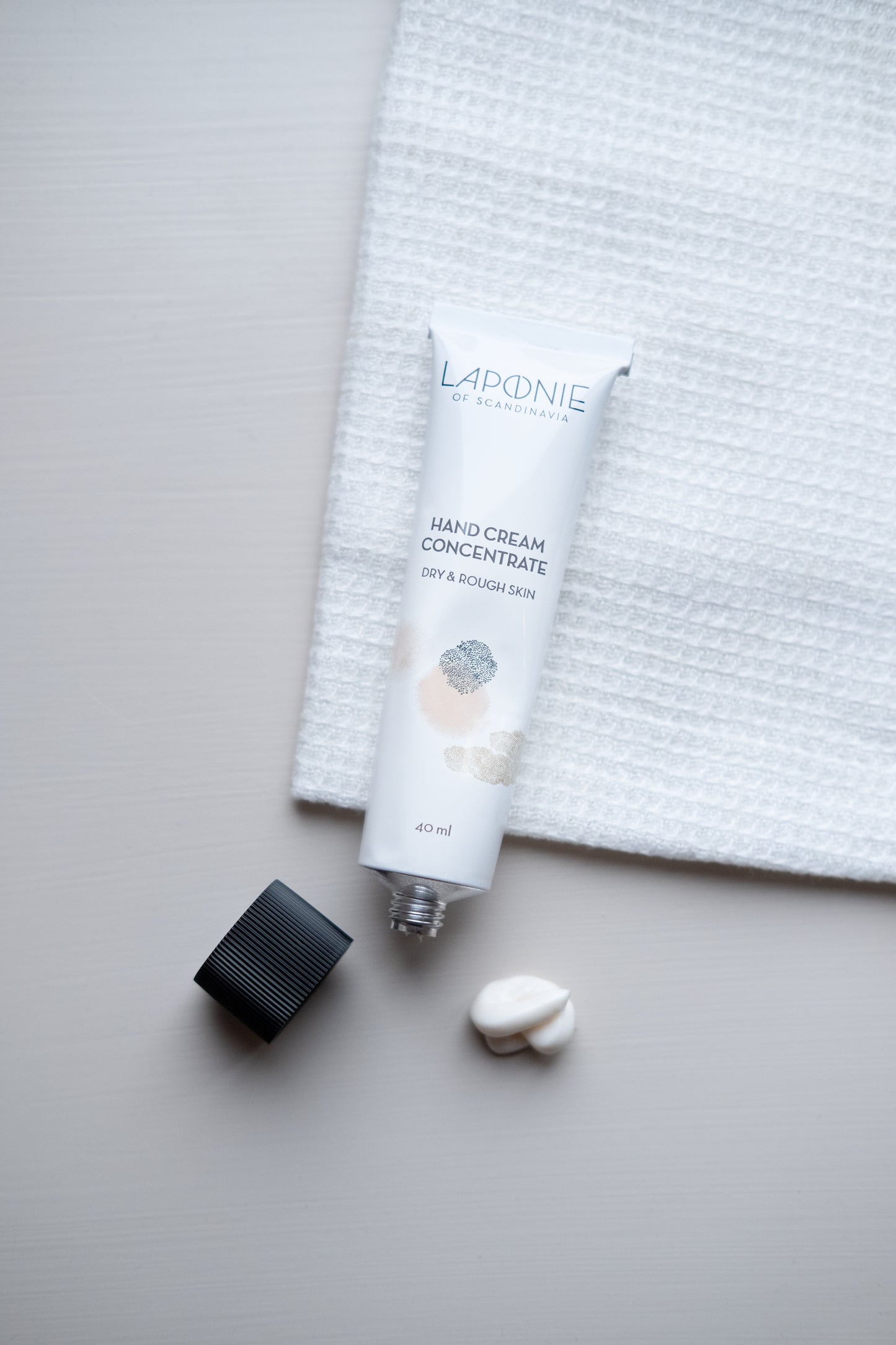 AQUA
Solvent. Water. The main vehicle for our Hand Cream Concentrate.
CANOLA OIL
Emollient and skin conditioning. Sustainably produced, deodorized and purified Swedish canola oil (from rapeseed oil) gently dissolves makeup and dirt. Canola oil is commonly used in cosmetics and is well-tolerated, skin wise. It is slightly higher in oleic acid (at around 60%), with linoleic and alpha-linolenic acids at a total of just over 30%, making it a good all-around oil for most, and especially for drier and eczema prone skins.
GLYCERIN
Humectant and skin protecting. Technically a sugar alcohol, glycerin is one of the oldest, most common and most versatile humectants used in cosmetics. It moisturises and protects the skin, accelerates skin barrier recovery and has antimicrobial properties, among other things. We use the vegetable kind, made from rapeseed and organic corn and soy oils.
BETAINE
Humectant and skin conditioning. Betaine is highly purified sugar beet extract, chemically speaking an amino acid derivative, that maintains skin moisture balance and strengthens the skin barrier even under very dry conditions. It is a so-called osmolyte, controlling water balance in living cells. The one we use is made from Finnish sugar beets.
CETYL ALCOHOL
Thickening and emulsion stabilising. A fatty alcohol made from RSPO certified palm oil. Please note that like sugar alcohols, e.g. glycerin or xylitol, fatty alcohols are not the same as denatured alcohol (ethanol); both sugar alcohols and fatty alcohols have moisturising and conditioning properties, whereas denatured alcohol has a completely different function in skincare products (and can be drying on skin).
GLYCERYL STEARATE CITRATE
Glyceryl Stearate Citrate. Emulsifier. One third of the non-ionic sunflower-based, film-forming and hydrating emulsifier - i.e. an ingredient enabling us to mix water and oil - we've used in the Concentrate. It's a naturally derived fatty acid produced from glyceryl stearate and citric acid. It's also an emollient, gives skin a soft and smooth feel and has film-forming properties that prevent moisture loss.
AVENA SATIVA KERNEL FLOUR
Skin protecting. Colloidal oatmeal. The whole oat grain, including the bran layer, is milled and sieved. This results in a light cream coloured, fine powder. The bran layer of the oat contains a high proportion of natural actives, including oat beta-glucan, avenanthramides, oil and protein, all of which are beneficial for cosmetic use on the skin. A 'colloid' or colloidal suspension is defined as a substance with dispersed insoluble particles suspended throughout. Colloidal oatmeal soothes and relieves redness, itching and minor skin irritations caused by eczema or skin rashes and is monographed by the FDA as a skin protectant. It reduces TEWL (transepidermal waterloss) and effectively forms a physical barrier on the skin surface. The oatmeal we use is made from Finnish oats.
POLYGLYCERYL-3 STEARATE
Polyglyceryl-3 Stearate. Emulsifier. One third of the non-ionic sunflower-based, film-forming and hydrating emulsifier - i.e. an ingredient enabling us to mix water and oil - we've used in the Concentrate. It's a polyglyceryl ester (the ester of the fatty acid stearic acid and polyglycerin-3), and is widely used in skincare as an emulsifier, but also as a skin conditionier.
HYDROGENATED LECITHIN
Hydrogenated Lecithin. Emulsifier. One third of the non-ionic sunflower-based, film-forming and hydrating emulsifier - i.e. an ingredient enabling us to mix water and oil - we've used in the Concentrate. Hydrogenated lecitihin is widely used in cosmetics due to its strong emulsifying ability, but also because it's an excellent and well tolerated emollient, which softens skin and prevents TEWL (Trans-Epidermal Water-Loss). It also stabilizes products, making it a great multi-tasker.
SODIUM DEHYDROACETATE
Preservative. Sodium dehydroacetate is the sodium salt of dehydroacetic acid. It is chemically synthesized through a multi-step reaction, starting with acetylene. Although it is not plant derived, it is approved by natural certification institutes such as COSMOS and the Soil Association, thanks to its mildness on the skin and body as well as the absence of any alternative registered (approved) natural preservatives under the EU's cosmetic regulation.
CAPRYLYL GLYCOL
Caprylyl Glycol. Skin conditioning and emollient. Caprylyl Glycol is an alcohol derived from caprylic acid, which is naturally found in palm and coconut oils. It's a humectant (like glycerin), i.e. a hydrating ingredient that works by attracting water to and holding it in the skin. It improves absorption, spreadability and the feel of a product on skin, and is also an antimicrobial, with preservative-like properties. And this is what it does in the Concentrate – boost the power of our main preservative, sodium dehydroacetate.
XANTHAN GUM
Gel forming, thickening and emulsion stabilising. A natural and commonly used thickener in cosmetics, xanthan gum is a polysaccharide produced from sugars through fermentation. Fun fact: it derives its name from the species of bacteria used in the fermentation process, Xanthomonas campestris.
CITRIC ACID
Buffering agent. Citric acid is a commonly used buffering, i.e. pH adjusting, agent in cosmetics. It is made through bacterial fermentation and shifts the pH of the product into the acidic range. This is closer to the natural pH of the skin, which may range from 4 to 7, but is usually thought to be between 5 and 6, with recent studies, however, indicating it to be below 5.
TOCOPHEROL
Antioxidant. Vitamin E. A common antioxidant for fats and oils used in skincare. We use the vegetable kind, derived from soybean and rapeseed to prevent rancidity in our balm.
What people think
Talvikäsien pelastus
Tämä voide pelasti käteni viime talvena, kun aknekuuri kuivatti ihoa käsistä kivuliaasti. Mikään muu voide ei tilannetta parantanut, mutta Laponie rauhoitti kädet jo yhdessä yössä. Erittäin pieni määrä riittää, ei jätä klähmää käsiin.
Toimiva käsivoide
Imeytyy todella hyvin, eikä jätä ihoa rasvaiseksi eli voi hyvin lukea kirjaa tms käsivoiteen laiton jälkeenkin. Olen käyttänyt tätä tyttärenkin käsiin, kun hänellä talvisin iho menee käsistä ihan rikki. Päälle olen laittanut vielä All-Around Balmia ja aamulla kädet ovat olleet taas ihan kunnossa! Kaiken lisäksi sopivan kokoinen putkilo.
Paras käsivoide
Ihoni rakastaa tätä käsivoidetta! Yleensä talvella käteni ovat olleet todella kuivat ja karheat, mutta ei enää Laponien käsivoidetiivisteen käytön aloittamisen jälkeen! Käsistä tulee ihanan pehmeät ja voide imeytyy nopeasti, joten sitä voi käyttää myös päivällä. Saisipa tätä myös isommassa koossa - isompi kotiin ja pienempi käsilaukkuun :)
Käsivoide
Jättää kädet jo ensimmäisestä käyttökerrasta ihanan pehmeiksi.
Hand Cream Concentrate
Tiivistettyä kosteutta käsille, imeytyy kuitenkin melko hyvin ja kädet jäävät rasvatuiksi muttei rasvaisiksi. Korkin koko helpottaa käyttöä ja tuubi mahtuu hyvin vaikka käsilaukkuun mukaan.
Something for all of you fellow sensitive and problem skinned friends out there: we've been granted the Finnish Allergy, Skin and Asthma Federation's Allergy Label! Read on for why the Allergy Label matters to us – and to you.

Deciphering ingredient lists on cosmetic products can be like reading a book in a foreign language: impossible to understand the plot, but you may recognise a word or two. Keep reading for our chemist Jaana's tips on how to read ingredient lists, also known as INCIs - or why you maybe shouldn't even bother trying!

We, as sensitive and problem skinned individuals, are rather familiar with the feeling of having an impaired skin barrier. Skin going cray-cray isn't exclusive for us with temperamental skin though, and it can happen to anyone at any given time. How to tell if you're dealing with an out of whack barrier? How to restore it? Keep reading to find out!