All-Around Balm
Soothing & protecting skin balm with Fazer oat oil
Free delivery on all orders over 50€. Delivery in 2-6 business days.
Sometimes you want a product that does it all. Our multi award-winning All-Around Balm for sensitive and problem skin tries its best – with an almost matte finish.

It's waterless, conditioning, protective and multi-purpose, and made from repairing argan oil and softening oat oil, with bisabolol to soothe and heal. Hydrogenated argan oil and sunflower wax give the balm a non-greasy, solid feel. 
Use All-around Balm for chapped lips, dry cuticles, small scrapes, bumps and spots, protection from the elements, your entire face - anywhere you need some extra soothing, softening or protective care.
Formulated for sensitive & problem skin. Fragrance-free. No added preservatives. Vegan & natural ingredients. Developed in our own Helsinki lab & made in Finland.
Please note, that our All-Around Balm contains high amounts of argan oil. If you are allergic to nuts, you should always consult your doctor and patch test before using this product.
Ingredients (INCI)

Argania spinosa kernel oil, hydrogenated argania spinosa kernel oil, avena sativa kernel oil, helianthus annuus seed wax, bisabolol, tocopherol.

More info
How to use & tips

Swipe your finger over the Balm (don't dig!) and gently pat onto skin. Our balm is a dense and rich product, so a little goes a long way. The product will soften in use and warmer weather. Can be used on its own or layered over essences, serums, creams and oils. Works well under makeup due to its semi-matte finsih and is great on kids, too. Can be used around the eyes.

Tip 1: Give cheeks a bit of glow by patting a small amount over your blusher.
Tip 2: Sun got to your skin? Use the All-around Balm for natural and vegan after-sun care, or as an overnight treatment mask. Simply pat in a small amount over dry or irritated areas or your entire face for overnight soothing care.
Tip 3: Itchy skin and dry beard? The All-around Balm doubles as beard wax and a soothing treatment.
Why it works for sensitive & problem skin

We've used a minimum of ingredients - only six go into the Balm.

It's completely fragrance-free, and formulated without any added preservatives.

It's also made without beeswax, and though it's a rich product, it doesn't leave a greasy fell and will not travel from e.g. lips.

Sunflower wax rarely clogs pores and sunflower oil supports your skin's protective barrier while bisabolol is a widely used soothing agent.
Recycle

Jar made of light protective uv-glass, lid made of urea and labels made of PP. Please recycle.
Awards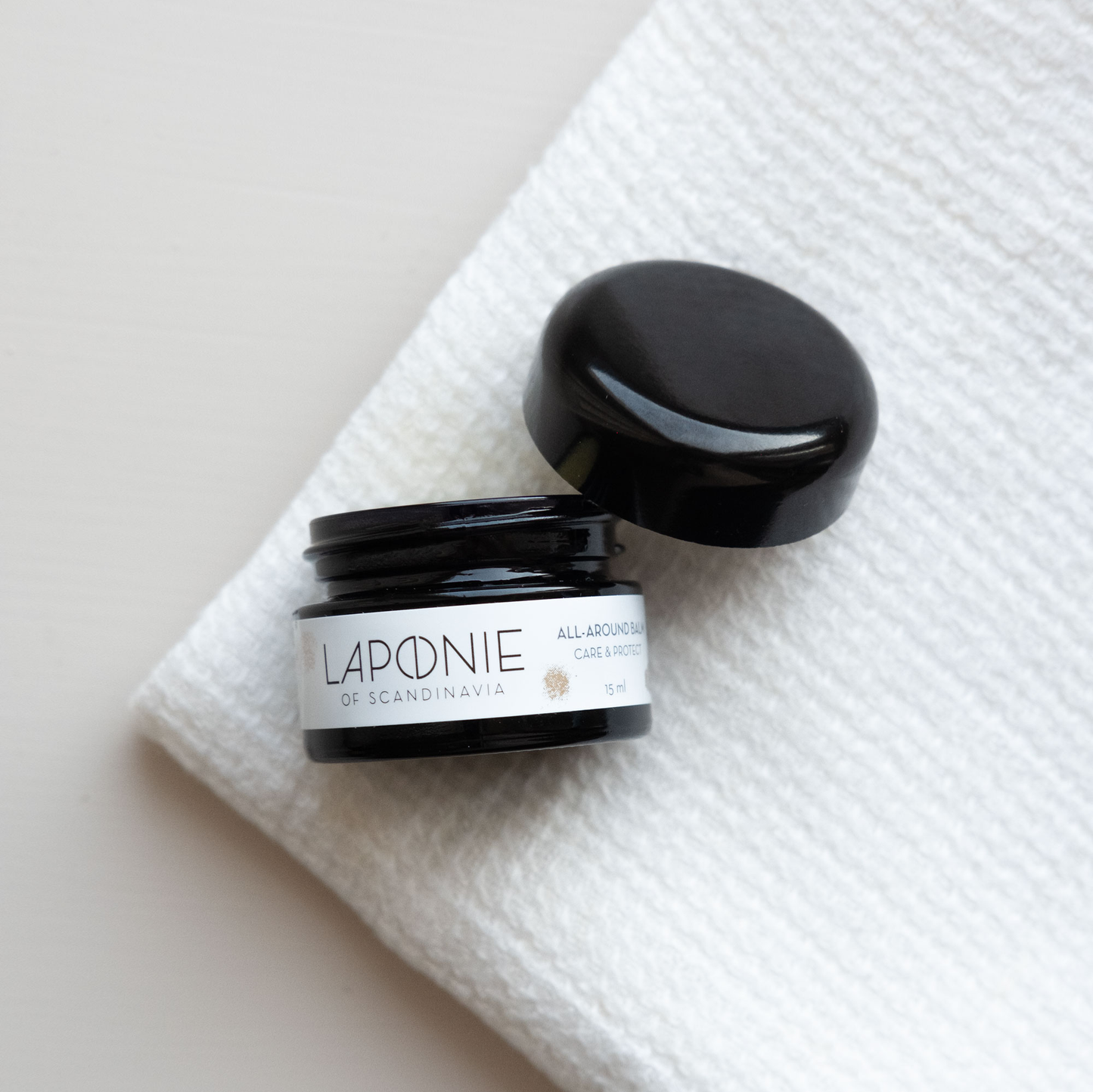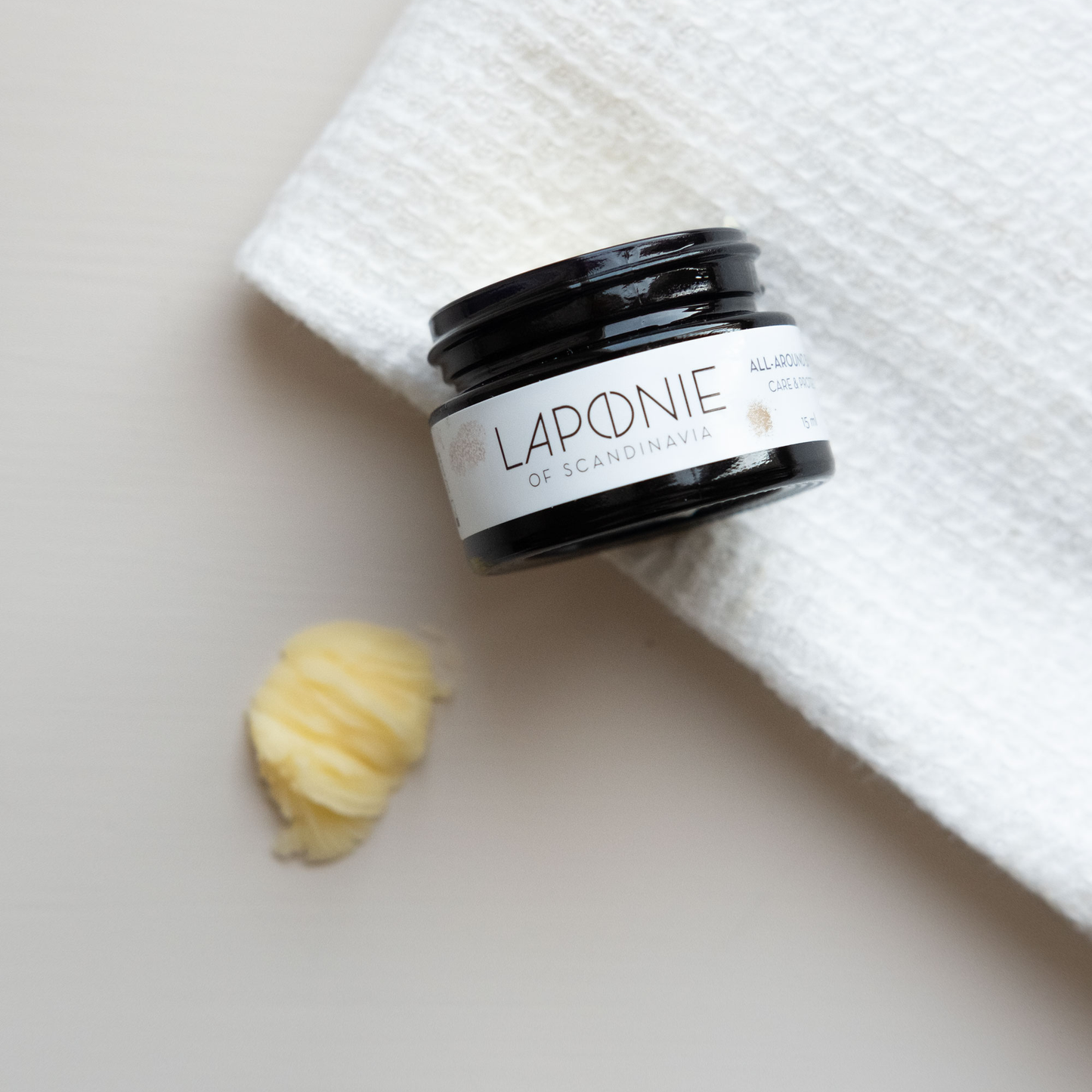 ARGANIA SPINOSA KERNEL OIL
Emollient. Argan oil. A staple for us. It is obtained from kernels of Moroccan Argania Spinosa, i.e. argan nuts. We love it in almost everything, and especially like its repairing qualities. It is slightly higher in oleic acid, but is usually suitable for clog prone skin. Argan oil contains a fair amount of lupeol, which has anti-inflammatory properties.
HYDROGENATED ARGANIA SPINOSA KERNEL OIL
Emollient and thickener. Hydrogenated argan oil. It is the reduced, or dried, form of argan oil. Apart from the lovely qualities of argan oil as such, we use the hydrogenated form to lend structure and a nearly matte finish to our balm.
AVENA SATIVA KERNEL OIL
Emollient. Oat oil. It has a nearly 50/50 balance of oleic and linoleic acids. From a skincare point of view, it's an excellent skin softener and has some calming properties too. We source our oat oil from Fazer, a Finnish family-owned, 126-year-old food and food service company, who make their oil in Finland, using Finnish oats. The Finnish-ness matters because a) the soil in Finland produces outstanding quality oats and b) it is quite rare for an oil producer to have a 100% local supply chain. Markku, who is head of R&D at the oat mill in Lahtis, tells us he has personally eaten all oat products that Fazer makes – including the oil.
HELIANTHUS ANNUUS SEED WAX
Emollient and thickener. Sunflower wax. A hard vegetable wax made through the winterisation of sunflower seed oil. We use it for solidity and a light feel. Sunflower oil on its own is a basic, widely used and well tolerated oil for skincare. The kind we favour is high in linoleic acid, and the wax we use is made from high linoleic sunflower oil.
BISABOLOL
Soothing, anti-inflammatory and anti-microbial agent. Bisabolol. A colorless viscous oil that is the main constituent of German chamomile essential oil. The bisabolol we use is organic, and produced not from chamomille but from the South American Candeia tree, and contains no farnesol, a potential fragrance allergen.
TOCOPHEROL
Antioxidant. Vitamin E. A common antioxidant for fats and oils used in skincare. We use the vegetable kind, derived from soybean and rapeseed to prevent rancidity in our balm.
What people think
All-around Balm
Olen nyt muutaman päivän käyttänyt päivisin Balancing Essence Mist (kerrostettuna) + All-around Balm yhdistelmää, ja olen ollut todella tyytyväinen! Lisään balmin päälle ohuen kerroksen meikkivoidetta. Iho on pysynyt tasaisen ja heleän näköisenä iltaan saakka! Pintakuivuuttakin esiintynyt huomattavasti vähemmän kuin kasvovoide+kasvoöljy -kombon kanssa. Jos tämä jatkuu näin pidemmälläkin aika välillä, niin tämä on ehdottomasti talven pelastus!
Huippu!
Jo monta purkkia käyttänyt tätä huippua tuotetta! Tätä olen laittanut myös taaperon talvi-poskille.
Loistava tuote
Todellinen monitoimituote pienessä paketissa
Kevyt balmi
Todella tehokas mutta kevyt balmi. Pakkanen ei pure niin kovaa poskiin kun tätä laittaa ennen ulkoilua. Ei tuki huokosia. Lempi balmini.
super hyvä
ihana etenkin huulille ja kynsinauhoille
Something for all of you fellow sensitive and problem skinned friends out there: we've been granted the Finnish Allergy, Skin and Asthma Federation's Allergy Label! Read on for why the Allergy Label matters to us – and to you.

Deciphering ingredient lists on cosmetic products can be like reading a book in a foreign language: impossible to understand the plot, but you may recognise a word or two. Keep reading for our chemist Jaana's tips on how to read ingredient lists, also known as INCIs - or why you maybe shouldn't even bother trying!

We, as sensitive and problem skinned individuals, are rather familiar with the feeling of having an impaired skin barrier. Skin going cray-cray isn't exclusive for us with temperamental skin though, and it can happen to anyone at any given time. How to tell if you're dealing with an out of whack barrier? How to restore it? Keep reading to find out!