Nourishing Oil Cleanser
Gentle cleansing oil
Free delivery on all orders over 50€. Delivery in 2-6 business days.
Our ultra-minimal and nourishing cleansing oil for sensitive and problem skin is the perfect way to start your day with a gentle, deeply nourishing cleanse, or really take the day off - without disturbing your skin's barrier. 
For once we would have space to write a ton about all the good stuff that's in it, but the Oil Cleanser contains just two ingredients: nourishing canola oil and a plant-based, gentle surfactant. So we'll just leave you with this: it really cleanses everything, even SPF and waterproof makeup, does not sting eyes and is easy to rinse off, without any oily residue. Skin is left feeling clean and soft.
Hot tip: pair with our Milk Cleanser or Gel Cleanser for the ultimate sensitive and problem skin double cleanse!
Formulated for sensitive & problem skin. Fragrance-free. No added preservatives. Vegan & natural ingredients. Developed in our own Helsinki lab & made in Finland.
How to use & tips

Massage a generous amount onto dry skin without water using dry fingers.
Rinse with water, or wipe off with a damp washcloth. Suitable for use around the eyes.

Tip 1: Can be used as the first step for double cleansing with either our Milk Cleanser (for drier skin) or our Gel Cleanser (for oilier skin).
Why it works for sensitive & problem skin

We've gone ultra-minimal in terms of ingredients - only2 ingredients go into the Oil Cleanser.

Fragrance-free and formulated without alcohol and added preservatives (as it doesn't contain any water).

Formulated with a gentle, non-ionic and skin-friendly surfactant, derived from sunflower seed oil.

The base oil in the Oil Cleanser is

canola oil, which is an excellent all-round oil for most skin types, especially for drier and eczema prone skins.

A cleansing oil is a great choice for both drier and oilier, even clogged, skin. You may have heard the chemistry-related phrase 'like dissolves like', which means that oil cleanses skin by dissolving excess sebum (i.e. oil). However, oil won't wash off with just water, so adding an efficient but gentle surfactant is imperative, to wash away the gunk you've dissolved.
Recycle

Bottle made of light-protective violet glass, pump made of plastic, silicone and stainless steel, and outerpack made of cardboard.
Awards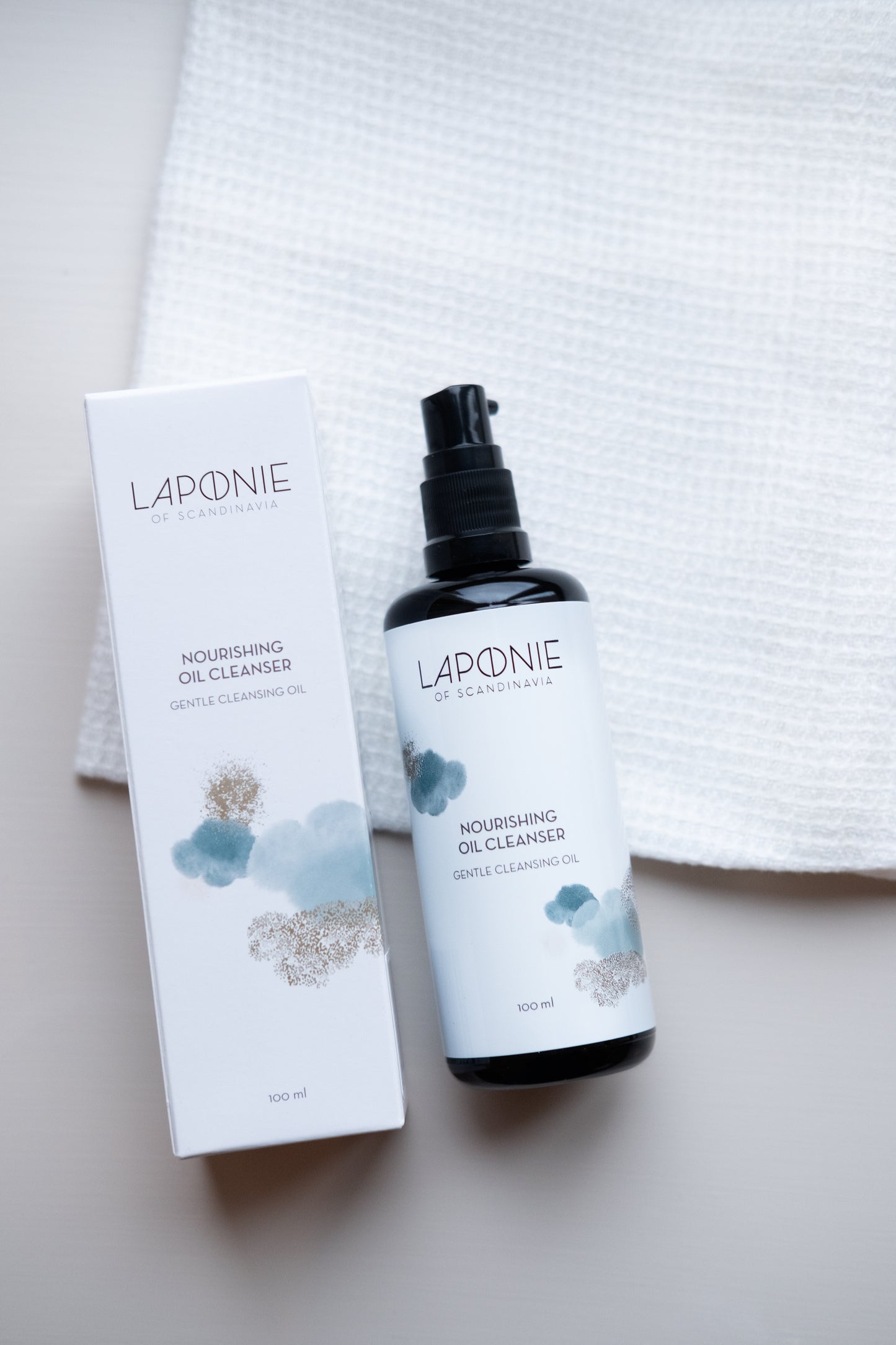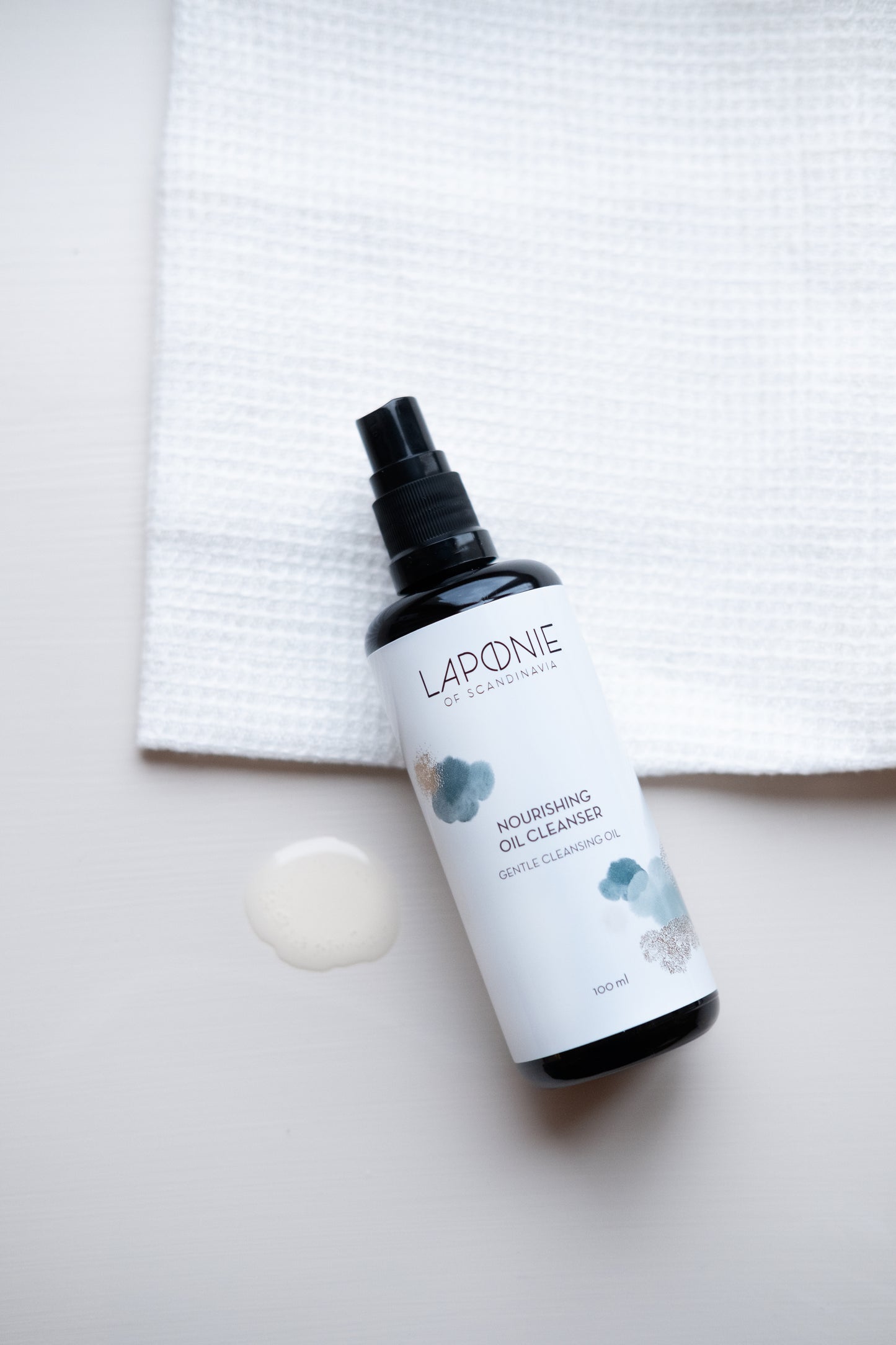 Canola Oil
Emollient and skin conditioning. Sustainably produced, deodorized and purified Swedish canola oil (from rapeseed oil) gently dissolves makeup and dirt. Canola oil is commonly used in cosmetics and is well-tolerated, skin wise. It is slightly higher in oleic acid (at around 60%), with linoleic and alpha-linolenic acids at a total of just over 30%, making it a good all-around oil for most, and especially for drier and eczema prone skins.
Polyglyceryl-4 Oleate
Emulsifier/surfactant. A gentle, non-ionic and skin-friendly emulsifier and surfactant derived from sunflower seed oil. An emulsifier in general enables the mixing of water and oil, and in our Oil Cleanser this one specifically allows for the oil to be washed off your skin whilst also providing cleansing action.
What people think
Hyvä tuote!
Tuote on ihana ja sopii omalle iholle ja omiin tarpeisiin hyvin. Yhden tähden miinusta sitä, että tuote on kyllä kallis.
Paras tähän asti testaamani puhdistusöljy
Pesee kasvot hellävaraisesti ja vahvakin meikki lähtee tällä pois. Ei jää pyörimään iholle vedellä huuhtelun jälkeen. Miellyttävän tuntuinen koostumus. Käytössä lähes päivittäin ja silti riittoisa. Itsellä aikuisiän (hormonaalinen) akne, tuote sopinut omalle iholleni eikä ole pahentanut tai tukkinut ihoani.
Puhdistaa hyvin
On mielyttävää käytössä ja toimii kaksoispuhdistuksen ensimmäisenä vaiheena.
Tehokas mutta hellävarainen
Puhdistaa hyvin mutta hellävaraisesti ihon, ei kuivata ja iho tuntuu pehmeämmältä. Jos käytän enemmän meikkivoidetta / värillistä aurinkovoidetta, pesen vielä toisella aineella eli käytän kaksivaiheista puhdistusta. Tämä pesee silmämeikinkin hyvin joten sitä varten ei tarvitse muuta. Uusi luottoputsari!
Something for all of you fellow sensitive and problem skinned friends out there: we've been granted the Finnish Allergy, Skin and Asthma Federation's Allergy Label! Read on for why the Allergy Label matters to us – and to you.

Deciphering ingredient lists on cosmetic products can be like reading a book in a foreign language: impossible to understand the plot, but you may recognise a word or two. Keep reading for our chemist Jaana's tips on how to read ingredient lists, also known as INCIs - or why you maybe shouldn't even bother trying!

We, as sensitive and problem skinned individuals, are rather familiar with the feeling of having an impaired skin barrier. Skin going cray-cray isn't exclusive for us with temperamental skin though, and it can happen to anyone at any given time. How to tell if you're dealing with an out of whack barrier? How to restore it? Keep reading to find out!