Calming Serum
Irritation & redness
Free delivery on all orders over 50€. Delivery in 2-6 business days.
Our Calming Serum is a light and clear gel-serum that soothes and repairs sensitive and problem skin.

Formulated with 1.5% madecassoside from the Centella Asiatica plant, plant-derived rhamnose sugar, and our favourite multitasking ectoin, it calms angry skin, repairs the skin barrier and rejuvenates skin. Great for alleviating symptoms of rosacea and perioral dermatitis (POD), and is a gentle alternative for tackling hormonal bumps. Oh, and of you went ahead and picked at pimples or had some extraction action - this is the one to reach for. Simply slather on over night and wake up to less redness.
Formulated for sensitive & problem skin. No added fragrance. Vegan & natural ingredients. Developed in our own Helsinki lab & made in Finland.
Ingredients (INCI)

Aqua, rhamnose, propanediol, glycerin, madecassoside, ectoin, sodiumn levulinate, xanthan gum, acacia senegal gum, sodium anisate, citric acid.

More info
How to use & tips

With sweeping motions apply sparingly to cleansed skin before oils and creams, before or after any toner. Can be used locally or on the entire face. Please note: Applying too much will cause product to pill.

Tip 1: Great for alleviating symptoms of rosacea and perioral dermatitis, and gentle enough for the under-eye area.
Tip 2: Layer under our All-Around Balm to help scars fade.
Tip 3: Use together with our Balancing Essence for the ultimate calming SOS treatment.
Tip 4: A drop mixed into our Face Cream will add a calming boost.
Why it works for sensitive & problem skin

We've used a minimum of ingredients - only eleven go into the Calming Serum.

Formulated without added fragrance and without alcohol.

Formulated with a skin-friendly preservative system.

This means gentle stuff - primarily organic acids and their salts - and also that we've created a unique system for the Calming Serum, to minimise overlap with other leave-on products and minimise the risk of sensitising skin.

The Calming Serum c

ontains 1.5% madecassoside, which has excellent skin soothing, anti-inflammatory and wound healing properties, reduces redness and flaking, and increases skin hydration in an oil-free base made of classic humectants such as glycerin and propanediol along with rhamnose sugar for a smoothing effect.
Recycle

Bottle made of light protective violet glass, pipette made of glass, PE-HD and nitrile rubber, label made of PE and outerpack made of cardboard.
Awards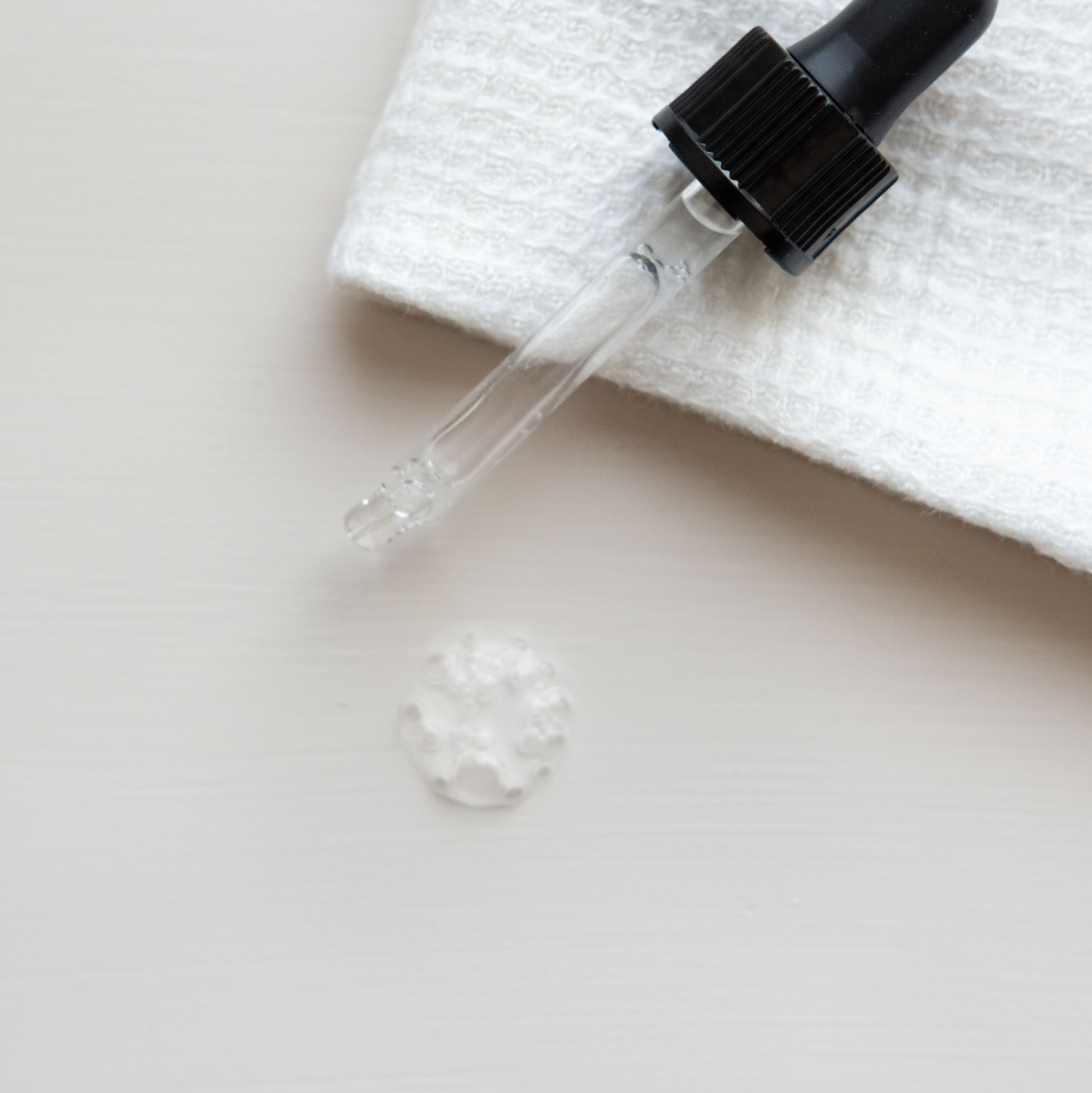 AQUA
Solvent. Water. The main vehicle for our Calming Serum.
RHAMNOSE
Humectant. Rhamnose is a plant-based sugar with hydrating, anti-inflammatory, skin soothing and skin rejuvenating properties. We get ours directly from our lab-neighbour Juho.
PROPANEDIOL
Solvent and humectant. Apart from being an excellent, non-irritating solvent, the glycol propanediol has excellent hydrating and preservative boosting properties. The one we use is made from fermentation of glucose, from corn.
GLYCERIN
Humectant and skin protecting. Technically a sugar alcohol, glycerin is one of the oldest, most common and most versatile humectants used in cosmetics. It moisturises and protects the skin, accelerates skin barrier recovery and has antimicrobial properties, among other things. We use the vegetable, organic kind, made from rapeseed, corn and soy.
MADECASSOSIDE
Anti-oxidant and skin-conditioning. Madecassoside is a highly purified glycosylated triterpen of the Centella Asiatica or Gotu Kola plant, also known as tiger grass, which has a long history of use in Eastern medicine. It has skin soothing, anti-inflammatory and wound healing properties, reduces redness and flaking, and increases skin hydration. The madecassoside we use is sustainably (UEBT/Nagoya Protocol) wild-harvested on Madagascar and processed in France. Our Calming Serum contains 1.5% madecassoside.
ECTOIN
Skin conditioning. Ectoin is a powerful, small, multi-tasking and natural stress-protection molecule, a so-called extremolyte. From a chemical point of view, it is a cyclic amino acid derivate. Extremolytes protect extremophilic microorganisms and plants from the extreme conditions of their habitats like salt lakes, hot springs, permanent ice or deserts. The properties of ectoin have been proven by various in-vivo studies: its benefits include long-term moisturisation, diminished skin roughness, skin barrier repair and anti-inflammatory and anti-irritant properties. We get ours from a lovely little company in Germany, where it is produced through biotechnological fermentation from a specific, non-GMO strain of the halophilic bacteria Halomonas elongata.
SODIUMN LEVULINATE
Skin conditioning and preservative. Sodium levulinate is the sodium salt of levulinic acid, which is an organic acid derived from in this case sugarcane.
XANTHAN GUM
Thickening, gel forming and stabilising. A natural and commonly used mainly thickener and gelling agent in cosmetics, xanthan gum is a polysaccharide produced through bacterial fermentation of pure culture Xanthomonas Campestris with protein and carbohydrate sources, in this case from soy or corn. Together with acacia senegal gum, it makes up the gel base for our Calming Serum.
ACACIA SENEGAL GUM
Film forming. Also known as gum arabic, acacia gum is a natural gum consisting of the hardened sap of two species of the acacia tree. In cosmetics, acacia gum is used for it's ability to create less stringy, or slimy and sticky, gels. The acacia gum we use is ethically and sustainably handpicked in Africa, and is a 100% renewable raw material.
SODIUM ANISATE
Antimicrobial, flavouring agent and preservative. The salt form of star anis derived organic acid. Together with sodium levulinate makes up the Calming Serums' preservation system.
CITRIC ACID
Buffering agent. Citric acid is a commonly used buffering, i.e. pH adjusting, agent in cosmetics. The appropriate pH is vital for a product's preservative system to work, but also to guarantee its skin-friendliness. Citric acid is made through bacterial fermentation and shifts the pH of the product into the acidic range. This is closer to the natural pH of the skin, which may range from 4 to 7, but is usually thought to be between 5 and 6, with recent studies, however, indicating it to be below 5.
What people think
Pitää lupauksensa
Mahtava seerumi, joka tosiaan rauhoitti haastavaa, PODiin taipuvaista ihoani. Allekirjoitan täysin tuotekuvauksen lupaukset.
Rauhoittava!
Ihanan kevyt, rauhoittava ja kosteuttava seerumi. <3 Sopinut hyvin POD iholleni.
Ilmiömäinen
Joskus muutoin ihan hyväkuntoisella iholla tapahtuu yhtäkkiä jokin reaktio, punoittavaa ja ärtynyttä koholle nousevaa röpelöä. Silloin tämä on kaivettava esiin ja tämä korjaa asian kuin taikaiskusta aamuun mennessä.
Tätä ja epäpuhtauksien tapauksessa Clarifying-seerumia on aina oltava kaapissa. Todellinen ihon SOS-paketti!
Rauhoittava seerumi
Loistava seerumi herkälle ja reaktiiviselle iholle. Ihoni punoitti ja kuivui vaikka miten yritin hoitaa ja kosteuttaa. Tämä seerumi rauhoitti tilanteen jo vuorokauden jälkeen. Suosittelen!
Monipuolinen ihmetuote
Ähh itselläni on raivostuttavan pitkä kokemus iho-ongelmien kanssa painimisesta teini-iästä aikuisikään jatkuneen aknen vuoksi, eikä herkkä vuodenaikoihin mukautuva sekaihoni ole helpottanut oikeiden hoitotuotteiden löytämistä. Söin vastikään isotretinoiini-kuurin ja nyt on tutustuttu muuttuneeseen ihoon uudestaan. Viileän syksyn tullessa sekaihoni kääntyi hilseileväksi, pintakuivaksi ja meikkivoide kirveli sekä kutisi kasvoilla kovasti. Ostin skeptisenä tämän seerumin rauhoittamaan kuivaa ja karheaa akneen taipuvaa ihoa. Tuotteella oli välitön vaikutus ja meikkivoide lakkasi kutisemasta, otsan hilseily on loppunut ja tuote on rauhoittanut tulehtuneita finnejä sekä lievittänyt paikallisen tretinoiini-voiteen ärsyttämiä alueita. Tuote siis todella toimii rauhoittamalla herkkää, ärtynyttä ihoa ja tuote auttaa syväkosteuttamaan ihoa samalla kuitenkaan tekemättä sitä rasvaiseksi. Tuote ei ole aiheuttanut minulle finnejä ja yllätyin, miten hyvin se sopi iholleni. Tästä en enää luovu, pakkauskoko saisi kyllä olla isompi. Myöskin äitini, joka on koko ikänsä kärsinyt herkästä atooppisesta ihosta, pitää tästä tuotteesta kovasti ja tuote on auttanut hänen ihoaan.
Something for all of you fellow sensitive and problem skinned friends out there: we've been granted the Finnish Allergy, Skin and Asthma Federation's Allergy Label! Read on for why the Allergy Label matters to us – and to you.

Deciphering ingredient lists on cosmetic products can be like reading a book in a foreign language: impossible to understand the plot, but you may recognise a word or two. Keep reading for our chemist Jaana's tips on how to read ingredient lists, also known as INCIs - or why you maybe shouldn't even bother trying!

We, as sensitive and problem skinned individuals, are rather familiar with the feeling of having an impaired skin barrier. Skin going cray-cray isn't exclusive for us with temperamental skin though, and it can happen to anyone at any given time. How to tell if you're dealing with an out of whack barrier? How to restore it? Keep reading to find out!